Ultimate Pest Management: The Premier Choice for Trinity, FL
In the picturesque communities of Trinity, FL, maintaining a serene environment is of utmost importance. Homeowners take pride in their neighborhoods and diligently ensure their surroundings remain in pristine condition. Yet, in such idyllic settings, the disruptive presence of pests can be a challenge. Ultimate Pest Management, family-owned and operated since 1997, is here to restore the tranquility of your home and keep pests at bay.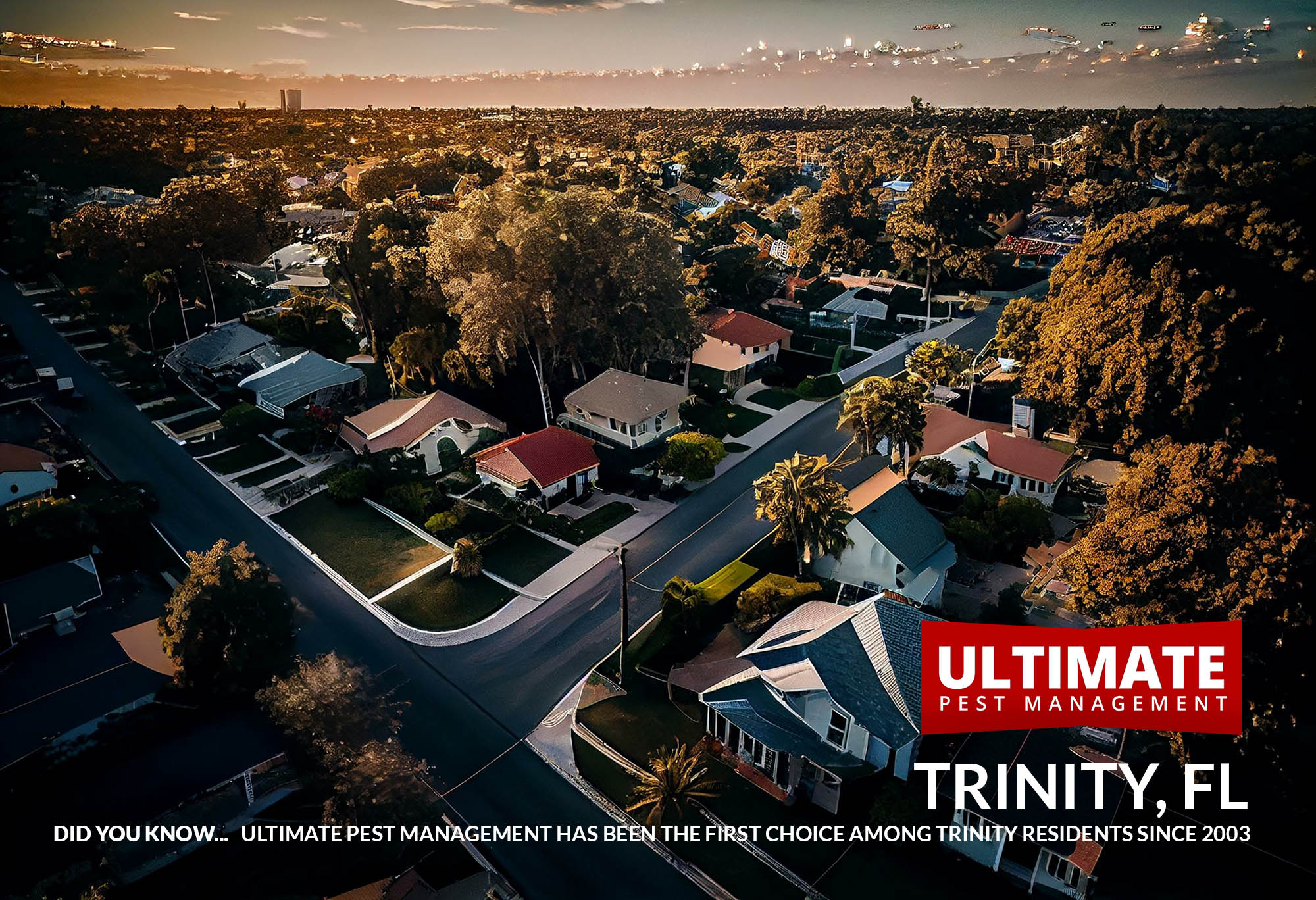 A Rich History with Trinity
Our service legacy over the last two decades is a testament to our efficacy and commitment. We have consistently kept homes across Trinity's best subdivisions pest-free:
Exclusive communities like Champions Club deserve only the best pest control services. With Ultimate Pest Management, every home in this elite subdivision retains its pristine environment without the interference of unwanted pests.
For the tranquil surroundings of Heritage Springs, our specialized exterminator services are tailor-made to ensure peace and serenity are always in abundance, unhindered by pests.
Long Leaf Pest Control & Fox Wood Pest Control
Amid their natural allure, these communities occasionally face challenges from various pests. Our commitment ensures that their lush landscapes remain untouched and pest-free.
Fox Hollow Pest Control & Trinity Oaks Pest Control
The luxury homes of Fox Hollow and Trinity Oaks require top-notch services to match. We ensure residents continue their luxurious lifestyles undisturbed by invasive pests.
Trinity Oaks South Pest Control & Thousand Oaks Pest Control
Our pest management solutions for these beautiful neighborhoods make sure that the serene environment residents have come to love remains intact.
Trinity West Pest Control, Chelsea Place Pest Control & Wyndgate Pest Control
From Trinity West to Chelsea Place and Wyndgate, every home is a testament to community spirit. We pledge to keep these communities harmonious with our expert pest control measures.
Comprehensive Pest Control Services
Our yearly pest control service, renowned for its efficacy, is also designed with the safety of people and pets in mind. Our extensive services cover:
Ants
Spiders
Wasps
Hornets
Silverfish
Roaches
Drain flies
Weevils
Beetles
Pantry pests
Moths
Scorpions
Our streamlined and transparent service procedure ensures a hassle-free experience:
Reach Out to Us: Connect with us through a call or an email to start the journey to a pest-free home.
Free Pest Evaluation: We'll swiftly schedule a visit for a meticulous pest evaluation, followed by a cost estimate, ensuring you're well-informed.
Prompt Service: Once finalized, we'll execute our yearly pest control service seamlessly.
Detailed Feedback: After our service, expect comprehensive insights on the tasks accomplished and pests targeted.
Year-long Tranquility: Relish a calm, pest-free atmosphere all year round.
Biannual Maintenance: Six months in, we'll revisit to reinforce the protection of your home's exterior.
Free Service Calls: If pests decide to make an unwanted return, we will too, at no extra charge!
Hassle-free Renewals: Renew your service effortlessly, and the cycle of unmatched pest protection resumes.
Why Choose Ultimate Pest Management?
Being family-run since 1997, we share a deep bond with the Trinity community. We resonate with your concerns, value the trust you bestow upon us, and relentlessly strive to maintain our stature as Trinity's best exterminator and pest control service.
Whether you reside in Wyndgate Pest Control or Champions Club Pest Control, with Ultimate Pest Management, your peace is our priority. Contact us today for a free estimate, and leave your pest troubles behind. Relish the serenity and elegance of your Trinity subdivision, confident in the knowledge that with Ultimate Pest Management, pests are a concern of the past!