Heritage Springs, an exquisite enclave in the heart of Pasco County, FL, offers an environment of elegance, serenity, and distinct luxury. While its residents cherish the harmony and upscale ambiance, the specter of pests can occasionally mar this peace. Fortunately, there's Ultimate Pest Management – not just another pest control service but a state-licensed entity (License Number: JB164932) assuring unmatched reliability for Heritage Springs.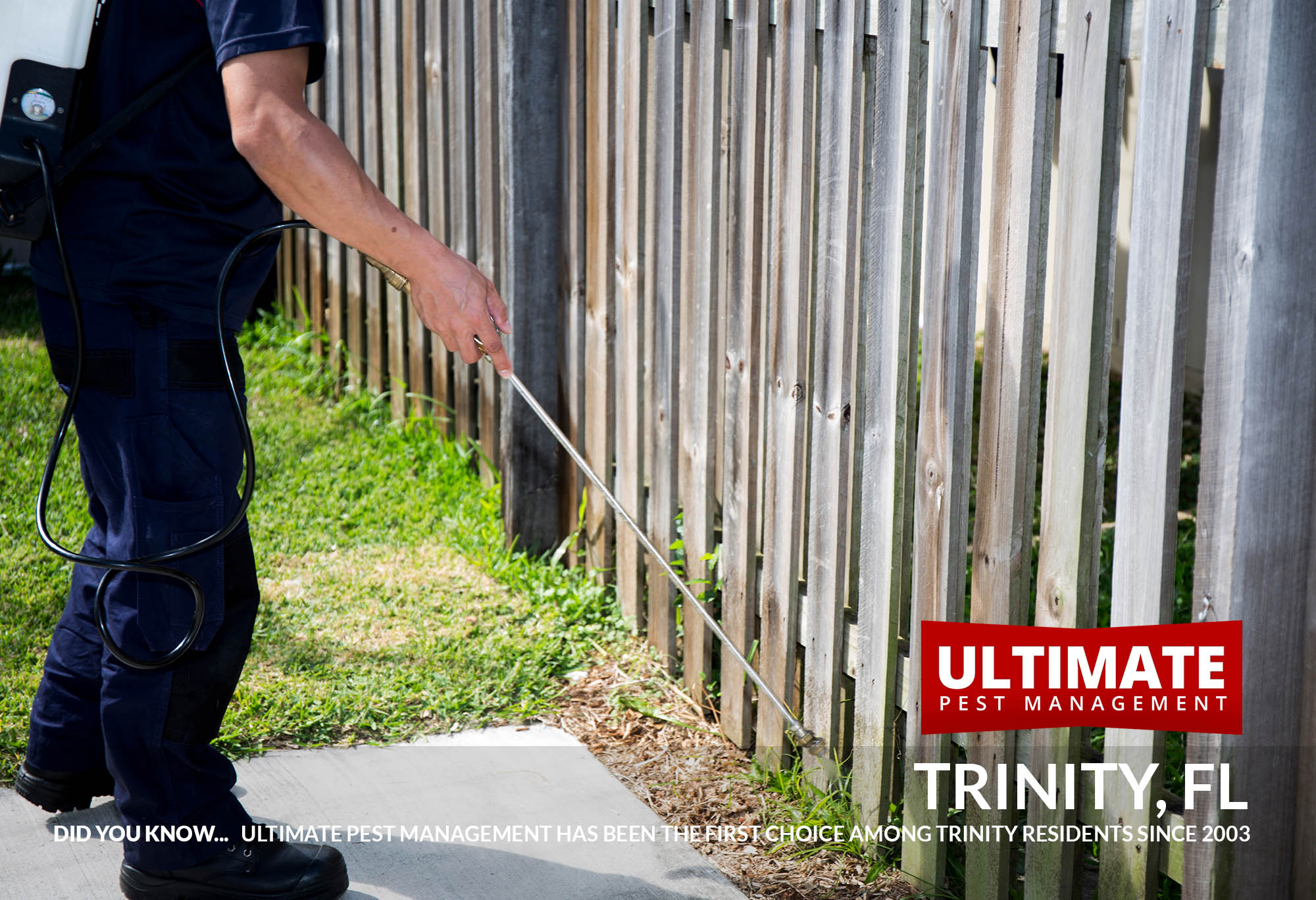 Why Ultimate Pest Management is the Undisputed Choice for Heritage Springs
1. State-Licensed Assurance
Our credentials extend beyond just experience and expertise. We are state-licensed in Florida, with License Number: JB164932. This licensure stands testament to our adherence to Florida's rigorous standards, promising nothing but the best for Heritage Springs' residents.
2. Intimate Knowledge of Pasco County's Ecosystem
Mike Cirillo, our owner, has been an integral part of Pasco County since 1979. His deep roots in this community, combined with our state-licensed recognition, allow us to craft solutions that are not just effective but also tailored specifically for the Heritage Springs environment.
3. Ensuring Safety Amidst Luxury
Every home in Heritage Springs is a symbol of grandeur. Recognizing this, our state-licensed solutions ensure potency against pests while safeguarding your home, loved ones, and pets. Safety and efficacy, backed by our state licensure, are the hallmarks of our service.
4. All-Encompassing Pest Solutions
Whether it's the unassuming ant or the more formidable scorpion, our comprehensive and state-licensed service ensures Heritage Springs' residents have a one-stop solution to all pest challenges.
5. A Legacy of Trust
Being state-licensed and family-owned since the late '90s, we bring a unique blend of professional assurance and personal care. Heritage Springs residents can rest easy, knowing they're in safe, licensed hands.
6. Transparent and Efficient Experience
Our state license, JB164932, is not just a number but a commitment to transparency and quality:
Personalized Consultation: Our approach starts with understanding your unique needs, followed by a free evaluation.
Customized Strategy: Our state-licensed experts design plans that address every concern with precision.
Timely Execution: We understand the value of time, especially for Heritage Springs residents. Expect punctuality and efficacy in every visit.
Feedback Session: A thorough debrief ensures homeowners are kept in the loop, making informed decisions.
Biannual Vigilance: Our commitment extends beyond the initial treatment. We're back every six months, reinforcing your protective shield.
Open Communication: Our relationship isn't bound by a single visit. Have queries or concerns? We're just a call away.
7. Affordability Meets Quality
While Heritage Springs symbolizes luxury, our state-licensed service ensures that you get premium quality without a premium price tag. Our competitive pricing ensures optimal value.
8. A Blend of Local Insights and Global Standards
With Mike Cirillo's extensive local understanding and our state licensure, Heritage Springs residents are guaranteed service that's globally benchmarked yet locally relevant.
The Heritage Springs Assurance
Living in Heritage Springs is about luxury, tranquility, and an unmatched community feel. With Ultimate Pest Management, backed by our Florida state license, JB164932, you're choosing more than just a pest control service. You're opting for peace of mind, assurance, and a pest-free luxe life.
In Conclusion
Embrace the serenity of Heritage Springs without the interruptions pests can bring. With Ultimate Pest Management, a state-licensed entity, residents are not just receiving a service. They are investing in a partnership that cherishes and preserves the sanctity of their homes and community. With License Number: JB164932 as a seal of our commitment, choose us to ensure your Heritage Springs life remains unparalleled in luxury and comfort.